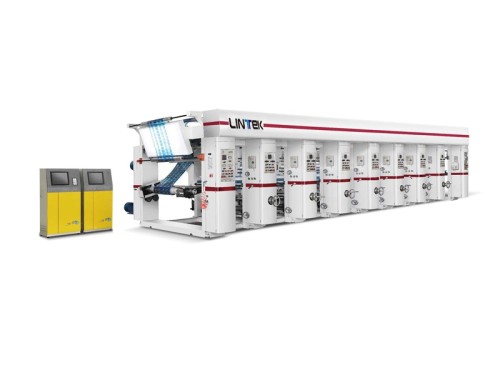 ZBAY-A Computerized Rotogravure Printing Machine(3 motor/7motor 80-120m/min)
Description
Application:
It is suitable for BOPP, PET, CPP, PVCD andthe combined film and paper with the same properties.
Feature:
1. Main transmission device: The maintransmission device adopts frequency converter, of Panasonic to control thefrequency conversion motor, transferring each group of printing blocks. It hasthe performance of electric saving.
2. Axial plate-loading mechanism: plateroller shaft unit, The horizontal adjustment adopts the movement of screw.Performance: assure the boards to be concentric, improving the quality ofproduct.
3. Structure of ink scrapper: On height andparallelism, doctor blade can be reached to any height and angle. Performance:Prolong the life-span of the blocks.
4. Impression lift mechanism: Impressionadopts dual air cylinder to impress through lifting. Performances:Assure theaverage of pressure and chromatic aberration.
5. Registration mechanical hand: It adoptscomputer to control the synchronous motor through lead screw adjustment, autoregister
6. Material-collecting and Feeding Device:The material collecting and feeding stand adopts dual station to collect thematerials. Unwinding adopt magnetic powder tension control, tension adoptdomestic auto tension control, rewinding adopt moment motor control.Performance: Reduce the waste materials and lower the cost.
7.Dry and cool device: The over adoptscentrifugal blower to blow and make suction. With electrical heating tubes usedfor oven heating, temperature Is controlled with intelligent temperaturecontroller,upper device of oven is cooled to ensure film cooling. The temperatureis controlled by intelligent.
Main Technical Parameter:
| | | |
| --- | --- | --- |
| Model | ZBAY-850A | ZBAY-1050A |
| Width of Printing | 800mm | 1000mm |
| Max.Diameter of Unwind/rewind | 600mm | 600mm |
| Printing Speed | 80~120m/min | 80~120m/min |
| Printing Cylinder Diameter | 100-350mm | 100-350mm |
| Precision of overprint | ±0.1mm | ±0.1mm |
| Total Power | 100kw | 120kw |
| Weight of machine | 17000kg | 18000kg |
| Overall Dimensions(LxWxH) | 14800*3500*2580mm | 14800*3700*2580mm |