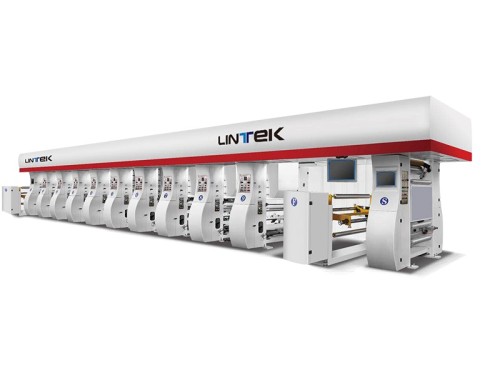 ZBAY-F Computerized Gravure Printing Machine(7 motor/ELS 180-200m/min)
Description
Feature

1.Adopting frequency vector conversion motors control the mainmotor, unwinding and rewinding, and tension of them.(seven motors controlled)
2.Lengthways and transverse accuracy are controller by the fullautomatic registering device, as well as the advance lengthways accuracyfunction.
3.Video frequency system is in staled.
4.Non-shaft pneumatic conic node printing plate loading, prompt and convenientprinting plate when change.
5.Sealed hot wind circulation oven, automatic constant temperature, diesel oil air-stove orelectrical heating for the drying methods.
6.Pneumatic draw knife, single motor controls the moving way, themoving frequency is adjustable.
7.Holistic moving oil frame, turning the ink in the barrel with the rubber rollers, pneumatic pumpcirculation.
8.High accuracy gear transmission box, adopting patented technique.
9.Unwinding and rewinding both worked by the dual-stationmechanism, realizing auto material change without
machine halt at high speed, adopting the pneumatic rollers for the draw in and out.
Main Technical Parameter:
| | | | |
| --- | --- | --- | --- |
| Model | ZBAY -850F | ZBAY -1050F | ZBAY -1250F |
| Effective printing width | 800mm | 1000mm | 1200mm |
| Max. Width of web | 850mm | 1050mm | 1250mm |
| Max. Printing speed | 180m /min | 150m/min | 150m /min |
| Max. Mechanical speed | 200 m /min | 180 m /min | 180 m /min |
| Max. Diameter of unwind/rewind | 800mm | 800mm | 800mm |
| Inside diameter of roll core | 76mm | 76mm | 76mm |
| Diameter of printing cylinder | 120-360mm | 120-360mm | 120-360mm |
| Accuracy of computer registration | ± 0.1mm | ± 0.1mm | ± 0.1mm |
| Tension control range | 20-50kg /Full Width | 20-50kg /Full Width | 20 50kg /Full Width |
| Heating power of oven | 120Kw | 144Kw | 234Kw |
| Total power | 181Kw | 205Kw | 266Kw |