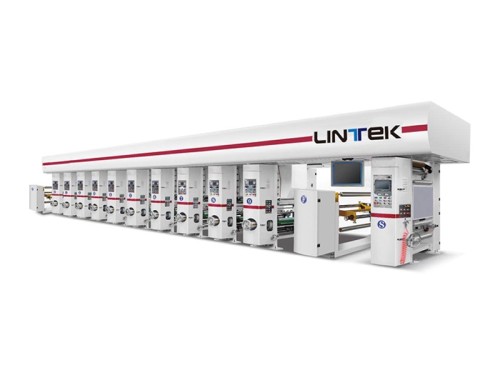 ZBAY-D Computerized Gravure Printing Press(7 Motor 160m/min)
Description
Application:
Machines in this series are applicable forcontinuous multi-color printing on rolling materials in good printingperformance such as cellophane, BOPP, PET, PVC, PE, aluminum foil, and paper,broadly applied for all types of super-quality printed matters.
Feature:
1.The machine frame transmission tensioncontrol part and rewinding both adopt frequency conversion synchronous motor
2.Pueumatic back pressure moving doctorblade, non-shaft pneumatic conic node printing plate loading, prompt and convenientprinting plate changing.
3.Unwinding adopt auto constant tension andmagnetic powder brake control
4.Printing pressure roller, tracking pressureroller, open & close of oven all adopt pneumatic elements control
5.Sealed type lengthened oven, fast dryingwith less energy consuming, and auto constant temperature control system
6.Printing ink circulating system, inflatabletype shaft for unwinding and rewinding.
7.Unwinding and rewinding both worked by thedual-station mechanism, realizing auto material change without machine halt.
8.Automatic computer registering devices andvideo inspection.
Main Technical Parameter:
| | | | |
| --- | --- | --- | --- |
| Model | ZBAY-850D | ZBAY-1050D | ZBAY-1250D |
| Lengeh of Printing | 300~1100mm | 300~1100mm | 300~1100mm |
| Width of Printing | 800mm | 1000mm | 1200mm |
| Max.Diameter of Unwind/rewind | 600~1000mm | 600~1000mm | 600~1000mm |
| Speed of Printing | 100~160m/min | 100~160m/min | 80~160m/min |
| Precislon of overprint | ±0.1mm | ±0.1mm | ±0.1mm |
| Total Power | 140kw | 160kw | 170kw |
| Weight of machine | 25000kg | 28000kg | 31000kg |
| Overall Dimensions(LxWxH) | 18800*3700*3000mm | 18800*3900*3000mm | 18800*4100*3000mm |