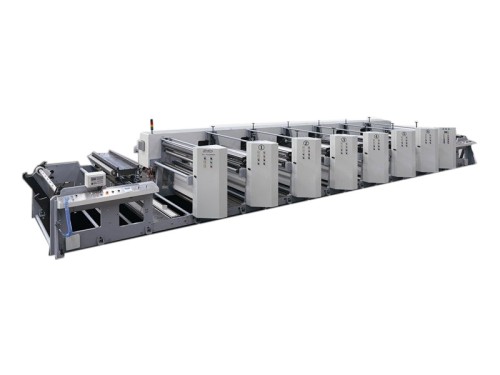 YT-1000C Wide Web Unit Type Flexo Printing Machine
Description
Application:
This machine is a flexo printing machine which adopts flexible photosensitiveresin plates,rubber plates as the base material, anilox rollers fortransferring ink,liquid ink for printing. It is controlled centrally by PLCsystem and generally consists of unwinding section, infeed section,printingsection, drying section, outfeed section, rewinding section and controlsection.This machine is an ideal machinefor printing paper cup, carton, paper bag, paper package, and so on.

Product Features:
1. Anilox roller inking structure effectively guarantees printing quality.
2. The machine has strong adaptability, since it can achieve satisfactory printing effect on various materials, from plastic film to corrugated board.
3. The combination of printing units is flexible, because users can increase or decrease printing unit number according to different requirements.
4. Low-cost printing plate and Low-loss printing process can effectively reduce printing cost, which is 30~50% lower than gravure printing.
Main TechnicalParameter:
| | | | |
| --- | --- | --- | --- |
| Model | YT-1000C | YT-1300C | YT-1500C |
| Paper Thickness | 60~400g/m2 | 60~400g/m2 | 60~400g/m2 |
| Max. Material Roll Width | 1020mm | 1320mm | 1520mm |
| Max. Printing Width | 1000mm | 1300mm | 1500mm |
| Printing Repeat Length | 360~1200mm | 360~1200mm | 360~1200mm |
| Max. Unwinding Diameter | ф1500mm | ф1500mm | ф1500mm |
| Max. Rewinding Diameter | ф1500mm | ф1500mm | ф1500mm |
| Gearing Specification | 1/8cp | 1/8cp | 1/8cp |
| Max. Printing Speed | 150m/min | 150m/min | 150m/min |
| Guiding Roller Diameter | ф100mm | ф100mm | ф100mm |
| Main Motor Power | 11kw | 15kw | 18.5kw |
| Drying Mode | Warm Drying and I.R.Drying | Warm Drying and I.R.Drying | Warm Drying and I.R.Drying |