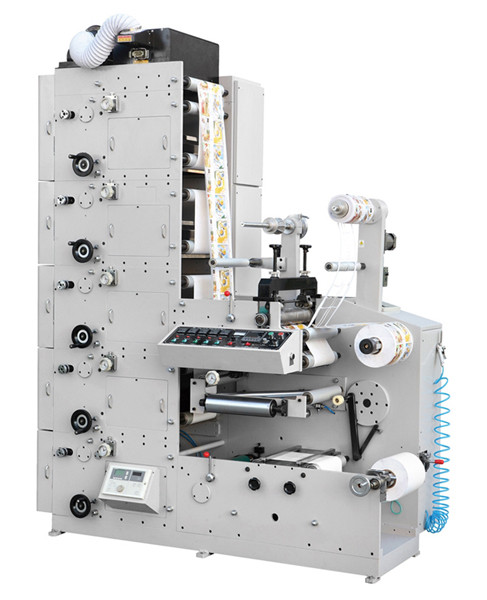 RY-320 Flexo Printing Machine
Description
This flexo printing press is fit for flexo printing of label paper, commercial forms; computer typing paper, film etc, the printing quality is high and cost effective for the plate. This flexo printing equipment use water based ink, it is green equipment so widely accepted by printing and packaging industry.

Characteristics:
1. Adopt theanilox roller to spread ink.
2. Unwinding andrewinding are controlled by magnetism power brake, clutch. (or by automatictension controller of mitsubishi , made in Japan).
3. Printing unitadopt 360º for registration.
4. Printing unithave one infrared to dry the device group each.
5. The rubberroller can break away from automatically while parking, and running at a lowspeed, in order to avoid water being black to be dry.
6. The main motoris adopted the import stepless regulation of frequency conversion.
7. Unwinding,printing, varnishing, IR drying, laminating and rewinding can be finished inone process, this kind of printing machine is best for each printing companiesto print on adhesive-paper labels and other commercial label.
Main technical parameter:
| | |
| --- | --- |
| Model | RY320 |
| Printing speed | 60m/min |
| Printing color | 1-6colors |
| Max. Web width | 320mm |
| Max. Printing width | 310mm |
| Max. Unwinding diameter | 600mm |
| Max. Rewinding diameter | 550mm |
| Printing girth | 175-320mm |
| Precision of registration | ±0.10mm |
| Dimensions | 2100*1100*2500(mm) |
| Machine weight | About 2200kg |