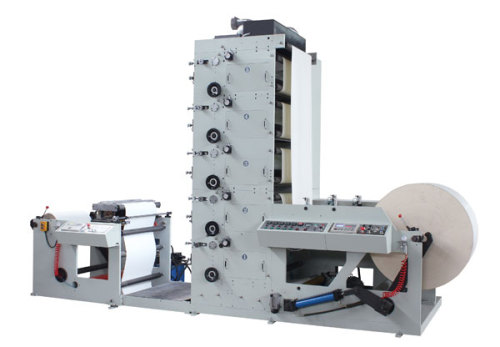 RY-850 Paper Cup Printing Machine
Description
Characteristics:
1. Adopt the anilox roller tospread ink.
2. Unwinding and rewinding arecontrolled by magnetic power brake, clutch, (or by automatic tension controllerof Mitsubishi, made in Japan).
3. Each printing unit adopt 360ofor registration.
4. Each printing unit have one IRdrier.
5. The rubber roller can breakaway automatically while parking, and running at a low speed, in order to avoidink being dry.
6. The main motor is adopted theimport stepless regulation of frequency conversion.
7. Unwinding, web guiding, coronadischarging,printing, IR drying and rewindingcan be finished in one process, this is an ideal machine to print many kinds ofpaper cup.
MainTechnical Parameter:
| | | |
| --- | --- | --- |
| Model | RY-650 | RY-850 |
| Printing Speed | 60m/min | 60m/min |
| Printing Color | 1-6 Colors | 1-6 Colors |
| Max. Web Width | 660mm | 860mm |
| Max. Printing Width | 650mm | 850mm |
| Max. Printing Diameter | 1400mm | 1400mm |
| Max. Winding Diameter | 1400mm | 1400mm |
| Printing Girth | 180-420mm | 180-420mm |
| Precision of Chromatography | ±0.15mm | ±0.15mm |
| Dimensions(L*W*H) | 3500×1650×2200mm | 3500×1850×2200mm |
| Machine Weight | About 3200kg | About 3800kg |